Congratulations!  The most memorable day of your life is approaching, and you want it to be everything you ever dreamed of. So do we. Our goal is to deliver to you, whatever you desire to make your day the best.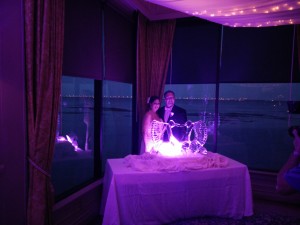 We offer all of our Bride and Groom's unlimited personal consultations, planning tools and music selection, professional equipment with on site back up, and a professional DJ-MC.  Our rates always include travel, set up and tear down, wireless microphones, formal attire, personal planning and lots of fun.
Our wedding receptions can include LED dance floor lighting, up-lighting, monogram service, video mix or other visuals. If you can imagine it, we can make it happen. We also offer our clients sound reinforcement and music selections for your ceremony.
This is your special day. Don't you deserve something that you'll always remember?  We provide a refreshing change to the standard, forgettable and often dull wedding entertainment. We'll work with you to understand your vision of a perfect ceremony and reception, and we'll put together an event that will surpass your expectations.
Exciting yet sophisticated, we provide a distinctive and personal atmosphere for your event that will invite and encourage all of your guests to simply have a great time. We'll also work with your event venue, catering manager and event planner to coordinate music and participation throughout the event, such as the grand entrance, first dance, cake cutting and more.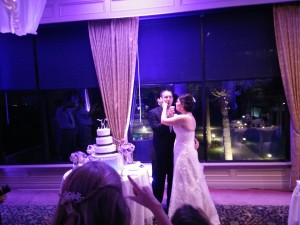 Your wedding day is special, and we take great pride in putting together the perfect day for you.  Let us help to make your wedding dreams a reality.
Contact us today for a personalized quote for your event!