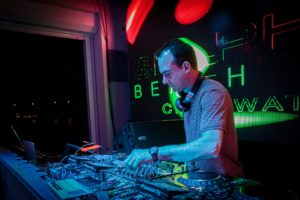 One of his past clients sums it up best:
"Then, we all danced the night away…. right from the start. What a Blast…Once the music started everyone was on their feet. Brandon, your mix was tasty! You read the audience and kept the energy level on high. It was perfect because this crowd was ready to dance."
Brandon has been DJ'ing professionally since the early 90's, performing his first wedding at the young age of 19. Back then he co-managed a large & successful Mobile DJ Business and graduated from the Pennsylvania Broadcast Academy. He then began working at local area radio stations as on air talent & production assistant. After landing the 7-12pm slot at WRFY-FM he quickly moved his way up to assistant music director while still performing weekly residencies at clubs and private events.
In the early 2000's Brandon moved to the Tampa area to escape the snow and be closer to his favorite vacation spot. He began working again in local clubs and landing weekly residencies all while building his mobile DJ business. He went back to school part time to earn his CIS degree. After earning his degree he began working in the DJ & Remix software industry and currently holds a technical support & marketing position with Atomix, Inc. the creators of Virtual DJ, which has over 150 million downloads to date.
Still, Brandon loves to perform live and continues to hold a weekly residency at Shephard's Beach Resort in Clearwater and DJ private events & weddings on the weekends.